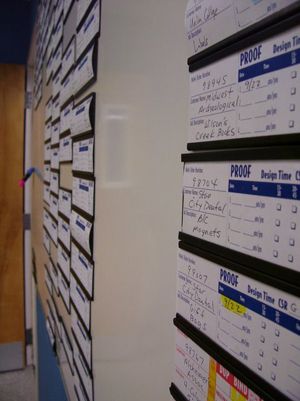 Our Order-Taking Process

At More Than Ink Printing, we make sure to implement our unique order taking process, which begins the moment you trust us with your print job. Whether you decide to contact us over the phone, email, using our website, or by coming to our office in person, you are immediately connected with the associate that is the best fit to take care of your order. 
From there, all jobs are custom-tailored to fit your needs. Once all of the job information is collected on our end, we immediately draw up a price quote for you which includes pricing variations for different quantities, paper types, and finishing options. At this stage in our process, we will work hand-in-hand to find what works best to fit both your project needs as well as your desired budget.
After your quote is approved to move forward, your order will move onto our design team (if applicable), where our professional designers will work on any necessary designing or adjustments to your document to prepare it for our final proofing. When your files have moved on from the designing process and have been approved by you, we will move onto production.
Once your job enters our production department, the order's specifications are double- and triple-checked for accuracy before printing begins, and again as your order is being produced to ensure that you are receiving a top-quality product.
This thorough quality checking process allows us to provide our customers with the quality products that they are looking for without all of the hassle of a larger-scale print shop.